Radar Report | January 2022
Hey Commanders,

Siobhan here, sharing with you a new iteration of our Radar Report - a War Machines report where we keep you updated about those subjects that matter to you!

December has been a month worthy of celebration and we're excited to be starting a new year full of surprises! Let's take a look at the highlights of last month:

OFFERS & EVENTS

We kicked off our Christmas celebration early with a special promotion: everyone who joined Clan Wars on December 21st received 50 diamonds for 300 kills, or 200 diamonds for 1200 kills!

The next day we followed-up with a 50% price discount in one of your favourite events - Tank Rush!

CHRISTMAS CELEBRATION

Since a lot of you enjoyed the free fuel for War Machines' 5th anniversary, we wanted to make sure everyone had fun on this celebration and we offered everyone free fuel until December 26th!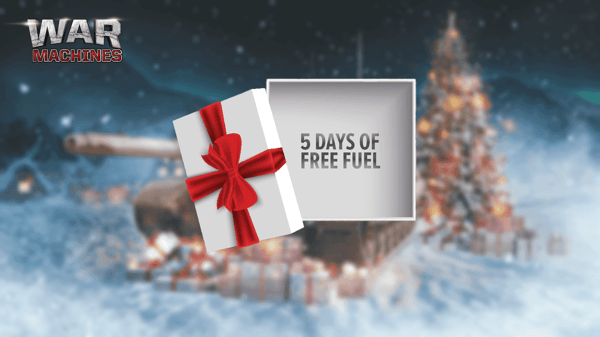 Next on the list was the Community Winter Holidays Giveaway - which led to 10 lucky Commanders being rewarded with 1.000 diamonds each! Congratulations!

Many of you enjoyed the no power-ups Championship, while others preferred the tier-restricted one, so in December we wanted to offer you the chance to choose your favourite format:

-For Tiers 1 to 4, power-ups were restricted to each Tier.
-For Tiers 5 to 9 there were no power-ups allowed.

On Christmas day, Santa added 120 High-Velocity ammo to your inventory! 🎅

And to end our celebration, we shared a new iteration of the Commander Spotlight blog post, where we gathered some of your best memes, ideas, photos and videos! If you want to be a part of the next one, make sure to join our Facebook group and showcase your creativity!

BUG FIXES
-Fixed an issue where the request to enter a clan disappeared after playing a match.
-Fixed a bug where the clan name, symbol and flag were overlapping when the clan name was long.
-Fixed a bug that caused usernames to be cropped by ASCII emoticons.
-Fixed a bug where Chaffee tracks weren't moving in the tutorial on a fresh install.
-Fixed a bug that caused the progress bar not to fill visually.
COMING NEXT
One of the most important and expected features is Tier 9 tanks being able to equip multiple tech skills at once, and it's a feature that's coming in 2022, along with many other things you will like - take your guesses in the comments! 👀

You can be sure that this year will be really exciting and full of surprises that you don't want to miss, so make sure to stay tuned for future intel on War Machines and join the discussion!